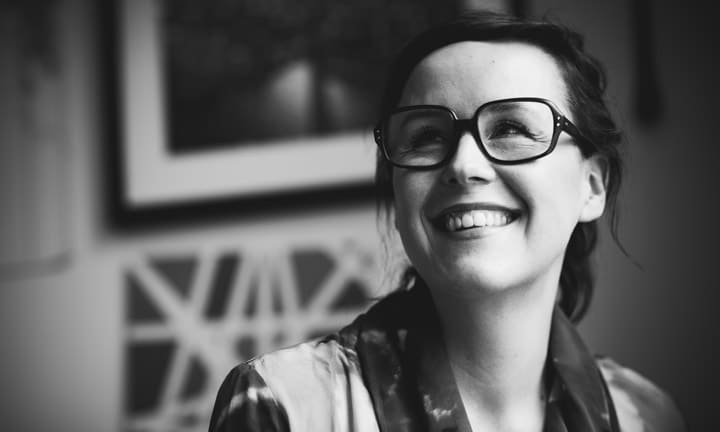 Hrund Gunnsteinsdóttir (b. 26. August, 1974) bases her work on a vision that is committed to a balance between creative and rational thinking, innovative and cross-sectoral approach to 21. century challenges.
Gunnsteinsdottir is a Yale World Fellow 2016 and was named a World Economic Forum Young Global Leader in 2011.
Gunnsteinsdottir is an Icelandic consultant, filmmaker, cultural entrepreneur and a writer. Gunnsteinsdottir specialises in creativity, cross-sectoral and cross-disciplinary collaboration, as she believes it to be the driving force for all good things. After resigning from a permanent position at the United Nations, Gunnsteinsdottir has focused on individuals as drivers of change. She believes that fostering creative mindsets, originality in thought and diversity is the key to unlocking the infinite possibilities of human beings in today's world. This is the starting point to strategy and adjustment of our organisations to best respond to the needs of people and today's world.
Gunnsteinsdottir is the chair of the board of the Icelandic Technology Development Fund, which supports innovation driven by technological development. She is also the vice-chair of the board for country strategy in the area of science, technology and innovation, appointed by the Minister of Education. She is the co-director and author of the documentary InnSæi – the Sea within (2016), which explores the art of flourishing, leading and innovating in an age of distraction and transformation. Following the bank collapse in Iceland, she designed and directed an innovative, cross-disciplinary university programme, recognized by the Nordic Council for responding efficiently to the needs of today's work market. Gunnsteinsdottir was the programme manager for UNIFEM in Kosovo after the war and later got a permanent position at the UN through the National Competitive Examination, from which she resigned in 2004. Since then, she as worked as a consultant for the Icelandic MoFA, University of Iceland and the United Nations, focusing on gender and post-conflict reconstruction. Her most recent consultancy was for UN Women, in collaboration with UNDP, IOM and UNICEF, and focused on peace-building, transformational leadership and economic security in Kosovo.
Gunnsteinsdottir was a Board Member of the National Committee of UNIFEM (UN Women) in Iceland from 2004-2008. During this time she edited the UNIFEM magazine published on the committee's 15 years birthday, she was one of the main creators of the Butterfly Week in 2008, to raise awareness about women and girls during conflict and to raise funds for the UN Trust Fund to End Violence Against Women. The Butterfly Week raised 1.4 million USD; the highest contribution to UNIFEM from a National Committee. The Butterfly Week has been replicated by UN Women's National Committees around the world. Gunnsteinsdottir was the spokesperson for the Butterfly Week and co-created with Kristin Olafsdottir at Klikk Productions four short artistic films to raise awareness about women's right. She co-authored a 3-dimensional book of poetry with an architect and a visual artist, and wrote a play premiered at Reykjavik's Art Festival in 2009.
Gunnsteinsdottir is a public speaker and has served on various boards and committees related to the arts, education, innovation and human rights. Gunnsteinsdottir holds a BSc from the University of Iceland, an MSc from the London School of Economics, has an executive leadership diploma from Harvard Kennedy School and has attended Executive Leadership courses at Yale and Oxford.
Her passions are hanging out with her two daughters and husband – watching films, adventuring in nature whether it is in Iceland, the Amazon rainforest or somewhere in between. Skiing is a passion (to put it mildly) – and ski trips to the alps with friends and family are a bliss. She reached a peak in her attempts to be bold and courageous when she did the Haute Route in 2011, a 6 days ski touring trip between Chamonix in France and Zermatt in Switzerland, with her dad, husband and two friends. Solitude, writing, painting and drawing helps her connect to her soul. She bows to Mick Jagger's words – that it is ok to let yourself go, as long as you can let yourself back, and finds her family and friends excellent partners in this endeavour.