Caring for a World in Transition: Building Foundation for a Loving and Peaceful World
26-29 April 2017, Reykjavik
"Our inner world of empathy, spirit, creativity and imagination is the source for a caring and sustainable stewardship we now need to exemplify."
The Spirit of Humanity Forum
is a global platform for leaders and change makers, seeking to contribute towards a lasting transformation in the world in which core human values such as love, respect, solidarity and compassion become integrated in our decision-making and relational processes, enabling systemic change in organisations, communities and nations. This is part of our 'duty of care' for the Earth and for Humanity at large.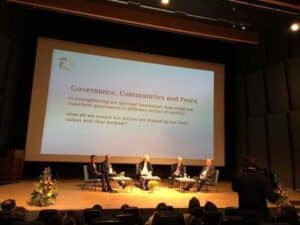 The Forum focuses on spirituality in leadership, and explores new forms of governance underpinned by care, respect, trust, dialogue and relationships.
The list of speakers and organisers and participants behind this forum is too long to repeat here. But I highly recommend you check out their inspiring and impressive website and facebook page, to see who is behind it all, read and view quotes, articles, photos, videos and interviews coming out of their events and activities.
As part of the speakers group, we were asked to give a quote as part of our message to the community. Mine was: "Our inner world of empathy, spirit, creativity and imagination is the source for a caring and sustainable stewardship we now need to exemplify." I spoke about my own experience of trying to follow this inner compass at work, in particular with the United Nations, but also since I resigned from the UN, or over the last 13 years.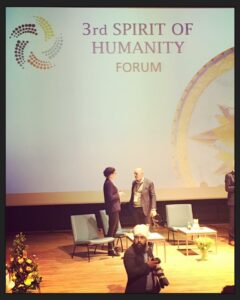 I was honoured to be in a panel on "Governance, Communities and Peace: In strengthening our spiritual foundation, how might we transform governance in different sectors of society?
The discussions were led by Professor David Cadman, Author / SoH Forum, and with me in the panel were Steve Killelea, Founder and Executive Chairman, Institute for Economics and Peace, Australia. Professor Mike Hardy, Professor of Intercultural Relations and Executive Director, Centre for Trust, Peace and Social Relations, Coventry University, UK. And Dr Vladimir Yakunin, Chairman of the Supervisory Board, Dialogue of Civilizations Research Institute; Head of the Department of Public Policy, Faculty of Political Science, Moscow State University, Russia
The Spirit of Humanity Forum is about Resetting the Compass towards Core Human Values